.
Karen Carpenter
ok...so I get into this argument yesterday with--let me say politely--a less-than enlightened music aficionado. He was going on and on with the, "how a woman can't play the drums as well as a man because of the physical strength thing" take. Now, (of course) this is stupid for way too-many reasons...but for our purposes here, I will enter into the defense, three irrefutable cases:
Exhibit A: Karen Carpenter
Karen was a 'drummer's drummer'. According to friends and family, she played the drums seriously right from the start, spending hours practicing. Her brother Richard recalled, "She seemed to take to them in nothing flat." Drummers who knew her, talk about her extraordinary ability in performing one-handed rolls.
Session drummer (and former Mickey-Mouseketeer) Cubby O'Brien, who joined the Carpenter's road band in 1973 (and also recorded some of the album tracks) remarks: "Karen was very knowledgeable about the drums and was a very good drummer, there's no doubt about that. Some of the things we did together were not easy. I remember one time Karen and I went to see Buddy Rich and Louie Bellson's band. I knew Buddy fairly well, so before the show, I took Karen to meet him backstage. He was getting ready when I introduced her, 'Buddy, this is Karen Carpenter.' And he said, 'Karen Carpenter! You're one of my favorite drummers, you know that?' Karen always hated when somebody would say, 'You're really good--for a woman,' Nobody better have said that!"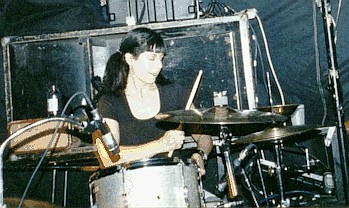 Exhibit B: Janet Weiss
(Quasi, Sleater-Kinney)
Fact - it was when Janet first joined Sleater-Kinney on their 3rd record, 'Dig Me Out' that their sound evolved into how it is known today. That might just be the best indication of Janet's drumming prowess one could present. Although, there is Quasi, where she pairs up with (ex-husband) Sam Coomes in a stripped down exhibition of creative quirk-pop. Janet has a remarkable ability of laying down solid rock-grooves that are uniquely interspersed with these creative, metric-percussive-melodies that move the music to the downbeat. Her own take on the female drummer issue is clear:
"I don't think people look at me as a female drummer; I'm a girl and I'm a drummer. Obviously being a girl is how I relate to things, but I think it's too complicated of a question to answer. It's been simplified in the media a lot - it's pulled out as this novelty thing. I enjoy seeing women play music and I enjoy playing music. I think it adds an interesting dimension...especially seeing a band live." I love Janet's playing.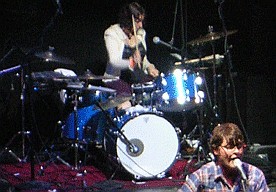 Exhibit C: Rachel Blumberg
(The Decemberists, Norfolk & Western)
Rachel solidifies my defense. I think she is one of the most 'musical' drummers playing today. Her drum-approach to most Decemberists songs travels past the 'laying down of the power-groove', reaching a more percussive 'coloring style'. She accomplishes this with her dynamics and melodic playing utilizing her kit, sticks/mallets, cymbals, bass drum, gong and other assorted percussion instruments, along with her background singing. So, Rachel never hits the hell out of the drums...rather, she plays them as an artist paints a canvas, (excuse my hoaky metaphor.) A lot of times she'll use the tone of her drumkit toms to provide the melodic beat, foregoing the usual BD/Snare approach. I've seen her play live a couple of times and she is one of these drummers I can't take my eyes off; her musicality just screams for attention. Along with Rachel's percussive duties, her beautiful (background) voice really fills out a lot of Decemberists songs, and it should be noted that she has a prominent vocal-role in her work with Adam Selzer's group, Norfolk & Western. Rachel is also an independent contractor for youth advocacy and a drum instructor.
.
And I don't really have time to rave about Melissa York.
Check her shit out.
Closing argument

: If it's really all about "power and strength", then will anybody ever top Elvin Jones?