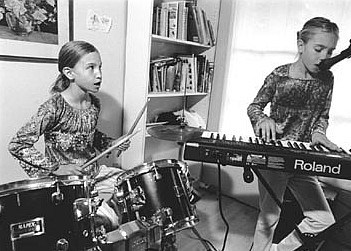 Music is nothing if it's not conceived for the joy of it.
The fearless confidence that often accompanies youth (Asya is twelve, Chloe is ten) runs through Smoosh's pop-based quirk rock with strength and beauty, and people are listening in awe.
"My favorite thing is how when I play out places, it makes me feel all happy," confesses Chloe, one half of Seattle's Smoosh. Chloe's older sister Asya, Smoosh's vocalist and pianist/keyboardist, wails and croons like an old soul with her tiny, tremulous voice.
Here is their Feb tour schedule with Mates of State
This is yet another reminder to pay attention to Noise Pop you Bay Areaers, where you can see Smoosh live on Wed. night (Feb 23rd) at Slim's.