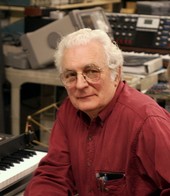 Bob Moog
, inventor of his namesake range of synthesizers and one of the most significant figures in the evolution of electronic music, died yesterday (Aug. 21) at his home in Asheville, N.C. He was 71. A native of N.Y., Moog was diagnosed with brain cancer in late April and had since undergone radiation treatment and chemotherapy.
After a decade of building Theremins with his father, Moog created his prototype, the Moog Modular Synthesizer, in 1963 and unveiled it the following year before the Audio Engineering Society Convention.
Bob was warm and outgoing. He enjoyed meeting people from all over the world. He especially appreciated what Ileana referred to as "the magical connection" between music-makers and their instruments.
Many of the most innovative and groundbreaking efforts in rock history wouldn't have been possible without the instruments built by Robert Moog. The best way to remember the pioneering musical figure, then, is to listen to the craftsmen who have made creative use of Moog's instruments. Such as:


Pink Floyd's "The Dark Side of the Moon"
ELP - "Trilogy"
Stevie Wonder's "Innervisions"
Brian Eno's "Another Green World"
The Who's "Who's Next"
Kraftwerk's "Autobahn"
Nine Inch Nails' "The Downward Spiral"
A public Memorial Celebration is planned for The Orange Peel for noon, Wednesday, August 24th. Fans and friends can also direct their sympathies or remembrances to www.caringbridge.com/visit/bobmoog.
Bob's family has established The Bob Moog Foundation dedicated to the Advancement of Electronic Music in his memory. Many of his longtime collaborators including musicians, engineers and educators have agreed to sit on its executive board including David Borden, Wendy Carlos, Joel Chadabpe, John Eaton, David Mash, and Rick Wakeman. For more information about the foundation, contact Matthew Moog at mattmoog@yahoo.com.